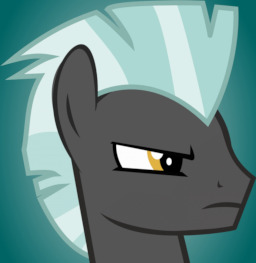 Source
This story is a sequel to Rumble's Big Day
---
There is nothing wrong with Scootaloo. She just can't fly yet. Rainbow Dash knows this, and continues to work hard to get that filly off the ground.
There is nothing wrong with Rumble. He's just a little uptight about his flight practice. Thunderlane knows this, and keeps trying to teach his brother the fun and exciting aerial manoeuvres of the Wonderbolts.
Thunderlane is convinced Rainbow Dash is going to hurt Scootaloo if she keeps this up.
Rainbow Dash is convinced Rumble is going to hurt himself if Thunderlane keeps this up.
You know what they say: "If you think you can do better than me, do it yourself."
(Former working title: "SOON TO BE PONYGRAD'S FAVORITE FIC")
Chapters (5)