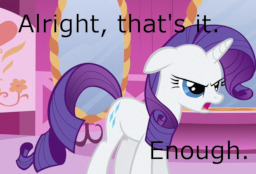 There are things you just don't say. Some lines you just don't cross, ever. The reason you don't cross them is because of empathy: you know how bad it feels to hear certain things, and you know you wouldn't like it if you heard it yourself. This is a view not shared by everypony.
Diamond Tiara and Silver Spoon crossed the line. Rarity learns of it. Rarity is not amused.
Everypony draws their line in the sand somewhere.
Disclaimer: contains Rarity in a state of barely lucid rage as well as the use of harsh words. Also Cheerilee being as effective as she is in the show, on average. If you do not enjoy episodes like Ponyville Confidential or any other episode where ponies talk harshly to each other, chances are this'll ruffle some feathers.
If this resembles real life situations or anyone you know, this is not the author's intent nor the author's problem.
Added notice 10/12/13: No, not based on any Season 4 storyline or spoilers, it's an old idea. The spoiler just prompted the publishing.
Added 2021 notice: please check the author's notes before commenting, chances are you'll find some answers there.
Chapters (1)