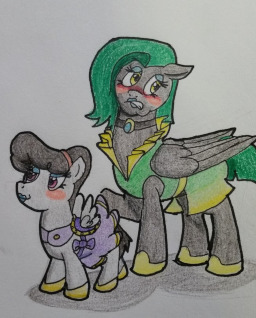 In the last Sisterhooves Social, Scootaloo and Rainbow Dash won in a landslide. Now she won't stop talking about how Rainbow is the coolest sibling in Equestria. But that's just not true, Thunderlane's the best sibling ever! After being indirectly challenged by Scootaloo to prove it, Rumble comes up with the best idea in his life. He and Thunderlane will win the Sisterhooves Social, he just needs to talk Thunderlane into wearing a dress.
Many thanks to the amazing Noble Savage for his great cover art. You did perfectly for this one

Turns out that I managed to predict the episode Brotherhooves Social a month and a half in advance! What a crazy coincidence. I guess great minds think alike. Though greater minds did said episode better than this story

Either way, I'm still pretty happy with myself for coming up with such a premise.
Chapters (1)