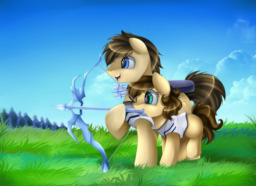 Source
"An arrow can only be shot by pulling it backward. So when life is dragging you back with difficulties, it means its going to launch you into something great. Just focus, and keep aiming."
For Snapshot, life has ground to a halt ever since two years ago. The last Equestria Games nearly ended in tragedy because of a stray arrow in the Ice Archery event. Why in Equestria did his shot go astray? Seasoned athletes don't make mistakes like that without a good reason…
I want to give special thanks to my prereaders Jack of a Few Trades, Quillamore, and Piquo Pie. This story wouldn't be nearly as good if you guys didn't help me out.
FamousLastWords helped out too by prereading.
Cover art is by the amazing Pridark
Chapters (1)