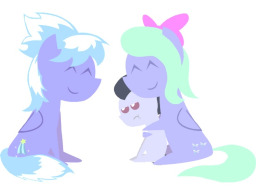 Rumble's constantly told he's a cute colt, from most mares and even a few other colts. But, for the most part it's been that. Maybe it's been a passing comment, or maybe someone tried to pay him a compliment. And, for the most part, Rumble hasn't minded.
However, when his brother Thunderlane calls Flitter and Cloudchaser over one night to foalsit, Rumble begins to suspect something may be wrong, especially when the two adult pegasi mares begin going beyond just calling him cute. When mares across Ponyville start fawning over the colt, Rumble decides he simply needs the help of a unicorn to stop a strange form of innate pony magic not usually found in pegasi.
---
Featured on 1/3/2015.
REVIVED on 4/5/2016.
Apparently featured on TVTropes.org MLP:FiM Shipfic Recommendations page.
---
Flitter x Thunderlane / Rumble x Cloudchaser will be involved; no sex.
[Cover art from MrPoniator and found here in gif form.]
Chapters (14)