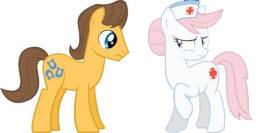 Nurse Redheart is a young nurse working at Ponyville Hospital. She's done a very good job of it, too, but her superior believes her bedside manner is lacking. Forced to take a week-long vacation, Redheart struggles with finding herself without anything to do and without what she believes is her purpose.
When a young mare ends up in the hospital with an injury, Redheart is called back to take care of her. When an old flame returns to her life, Redheart finds herself conflicted between the feelings she has for him and the memories of what happened before. While initially happy to get back to work, Redheart finds these two revealing something in her that wasn't there before, something that will make her re-figure her priorities in life.
Because there's not enough Redheart fiction. Ever. And I've been meaning to use her in a fic for a while.
Oi... I liked the other one better, but I changed back the title.
Rated Teen for sensuality, suggestive moments, somewhat heavy alcohol usage, and some language.
Like and favorite if you enjoy, and leave a comment with specifics about what you like/don't like.
Chapters (38)