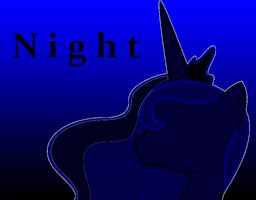 A human is transported to Equestria by Princess Celestia... and he wants to get out. He's placed under the care of Princess Luna... who also wants him to get out. Now, "Nemo" has to deal with adjusting to his new surroundings and attempt to recover his lost memories of his former life in the three months he has to wait while Princess Celestia charges up a spell to send him back home. Fate, however, may have other ideas for him.
A human-in-Equestria fic.
Would you believe this got rejected by Equestria Daily could get so many likes for an HiE? Thank you!
EDIT: Over 20,000 total views!Thank you all so much!






Awesome song (not by me) that I've been listening to while writing the fic and may as well be the theme song: Constellations - Aviators
Chapters (17)