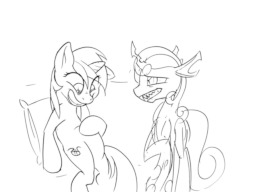 This story is a sequel to Winds of Change
---
Lyra and Bonbon are two normal happily married mares, except one isn't a mare but a shapeshifting hermaphroditic erovore whose mother just invaded Canterlot and the other is a highly unstable mare in heat with an absolutely brilliant plan.
...well, they're happily married, anyway.
Join Lyra and Bonbon as they navigate the wonders of interspecies pregnancy*. Or don't! It's not everyone's cup of tea, and there's a super hero movie in theatre five!
*Including random ponies touching their belly, well meaning bedroom advice from bakers, odd food cravings, morning sickness, cultural misunderstandings, morning sickness, big dramatic fights, random cravings for cardboard, gaining weight, lynch mobs, morning sickness, awkward godmothers who try too hard, patching up feelings, cravings that are downright disturbing, morning sickness in the afternoon, morning sickness, moodswings, pulled medication, bricks thrown through windows, lawsuits, surprisingly intense bedroom activities, dress up, shopping, royal visitations, morning sickness on princesses, kicking foals, more moodswings, mothers who move in to help out alongside their BDSM masters, random periods of glowing, even more moodswings, depression, hyperventilation, dramatic break-ups, internal bleeding, trying to outrun trains, robbing a convenience store, being thrown in prison, having odd cravings for prison food, false labor alarms, morning sickness at night, morning sickness in dreams, dramatic make-ups, numerous hospital visits, and a pair of guards named Lace and Arsenic.

(Cover Art provided by Conicer)
Chapters (13)