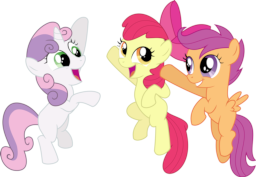 Source
The Crusaders are discussing their next crusade when their fellow classmate, Rumble, asks them for some help. Apparently, his older brother, Thunderlane, has been acting really strangely: going out without saying where to, coming home late, and the strange smell of apples coming off of him whenever he does... And it turns out, Apple Bloom has been noticing some strange things going on with Applejack, who has been doing the same thing!
But, when following the two ponies, they're surprised to find out they're... Dating?!
---
Gift to my wonderful follower, Azure_Shadow, for his birthday! I hope you like it!
Chapters (1)