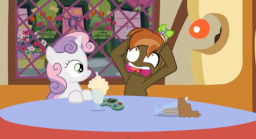 Source
Button is very brave. He's saved Princess Zelda from Ganondorf, fought against zombie hordes and he's even managed to beat the dreaded Creepers! Alright, that last one wasn't real. Or the other ones.
But, despite his achievements, he has only one princess he wants(and thankfully, she's not in another castle): Sweetie Belle. Of course, when he asks her to Sugarcube Corner for milkshakes, he encounters a horde of enemies! Well, not a horde, just Diamond Tiara and Silver Spoon, but their enemies nonetheless.
Will Button be able to stand up to the enemy and protect his princess? And will he really learn the true meaning to being a hero?
---
This is to celebrate 350+ followers. The vote for this story's creation took place in this blog. I hope you enjoyed~!
Chapters (1)