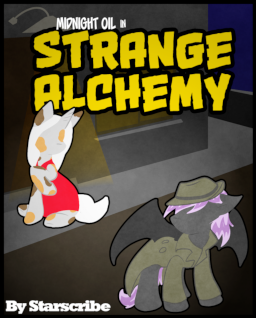 Midnight Oil might not be the most well-known investigator in Canterlot. She might not have the longest list of solved cases, or the best contacts with the authorities. What she does have are guts, and the street-smarts that come from a life in the underworld. But when her abilities are challenged by her biggest case yet, Equestria's ancient capital might not survive the terror of strange alchemy!
---
Editing by Two Bit and Sparktail. Cover by Zutcha.
This story was written as a commission for FZ6pilot, who created Midnight Oil and inspired the general premise. It will be told in a series of episodes, the first of which will update each Thursday until complete.
Chapters (4)