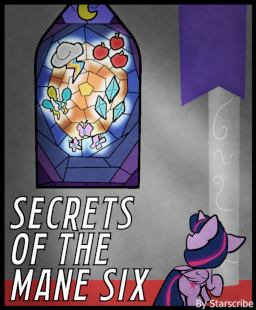 Twilight Sparkle accomplished something incredible, something not even the great Starswirl could manage. But ascension into the ranks of Equestria's princesses is not without its difficulties. Before she can take her place as princess of Friendship, Twilight must travel to the underworld and make a ceremonial offering to Death in exchange for her immortality. Twilight is more than a little surprised to discover the identity of the pony under the hood.
After years living in Ponyville and getting to know her friends, Twilight always assumed they were exactly what they seemed: a group of friendly and ambitious ponies. But as it turns out, the sort of pony who saves Equestria and decodes the ancient mysteries of Starswirl is likely to attract ponies a tad more interesting.
---
Updates on the 3rd or 4th Friday of every month, then daily until that section is complete.
Editing by Two Bit and Sparktail. Cover by Zutcha.
Chapters (23)