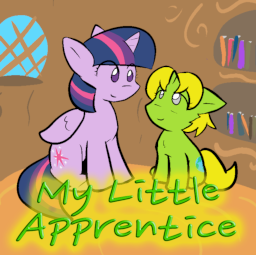 Source
This story is a sequel to Steel Solstice
---
Continued in: My Little Apprentice: Apogee
---
Twilight Sparkle learns that the trust and goodwill of the Princess isn't always a good thing as she's given the trust of an important assignment. When that assignment turns out to be long-term, how will she handle taking care of a filly of her own? How will she handle this strange new filly, who proves to be much more than she appears. As a matter of fact, she seems to be from an entirely separate universe.
Meanwhile, Second Chance has kept only enough of her memories to know that she isn't what she should be. The wonderful world of Equestria has its own dangers, and she seems to have a knack for attracting trouble. The more of her memories return, the more she wishes she could just forget. But you can't forget when all of Equestria depends on you remembering.
Only one thing's for sure: The longer Twilight keeps this strange filly in her care, the stranger her own life will become, and things she thought she knew about Equestria will unravel before her eyes. Strange ancient devices, an eccentric mint unicorn and her so-called "Equestrian Precursor Society" are only the beginning for Twilight Sparkle as she begins a journey of her own. She too may wish she could simply forget. Unfortunately, it's too late for either of them.
Chapters (17)