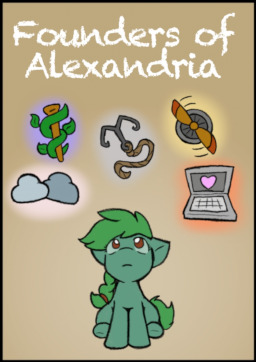 Source
This story is a sequel to The Last Pony on Earth
---
Alexandria; a name its founders hope might again become synonyms with scholarship in a world that only four months earlier hosted human civilization. Now only the last remnants known as the Human Preservation Initiative have retained their species, the remainder of the population has been transformed completely into ponies. Adapted to survive in a world now saturated with magic, the ponies of Alexandria settle in for what they expect to be long and boring lives.
They are mistaken. Between the gradual approach of winter, being completely new to the magic of their bodies, and the HPI constantly breathing down their backs, life in Alexandria proves to be anything but boring.
Note To E-Reader users: This story contains illustrations in each chapter, which will be lost in the standard fimfiction chapter export. The generous Phoen1x took the time to produce an epub version with all the illustrations intact, which you can download here.
A huge thanks to Zutcha , the artist for this story. Also a huge thanks to my editors Two Bit and Sparktail.
Chapters (46)