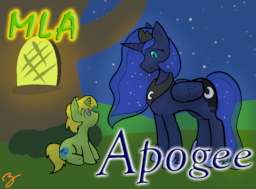 Source
This story is a sequel to My Little Apprentice
---
The summer sun celebration brought the filly Second Chance into contact with one of the most powerful beings in Equestria, Discord. Thanks to him, she's got all her memories back, and has access to the powerful Jebr Stone. Will that be enough to save her dying species without sacrificing Equestria in the process? Nor is she the first traveler from her world to reach Equestria, or the only one with plans for it.
Will Chance's newfound friendships be enough to keep her sane and preserve Equestria through the dark times ahead?
---
---
As usual, a huge thanks to Zutcha for the excellent cover, this time with shading!
Chapters (13)