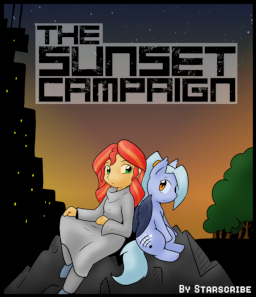 Source
This story is a sequel to Steel Solstice
---
Sunset Shimmer's plan to escape the Steel Tower failed—but she is still returning home. Instead of a victorious pony, come back to gloat to her previous teacher about the secrets she had uncovered, she is an adviser to one of the most dangerous men alive: Tesla.
But it isn't a simple invasion; Equestria is under attack by demonic forces, and the Steel Tower has been invited to help. But there's another faction of humans in Equestria, one that is still at war, and one who Sunset suspects are plotting terrible things...
She isn't alone. One of her human friends, now trapped as a cybernetic bat pony, is sent on a covert mission of her own. Equestria may depend on them in ways they never could've realized.
---
Updates Thursdays.
This story is meant as a companion to Harmony Defended, and to take the place of the long-anticipated revision. I decided it would be better to write something new than to overhaul something that was so long in itself. This story will probably spoil various elements of that one, though the reverse will largely not be true. If all of this seems confusing, you should probably start with my first story in this series, My Little Apprentice. As that story was written in Season 4, this one will not necessarily incorporate the canon of future seasons of Friendship is Magic.
The Sunset Campaign was sponsored by Two Bit on my Patreon, who is generously sponsoring me to clean up my tangled web of previous stories. Sparktail and Two Bit did the editing, and Zutcha did the cover.
Chapters (27)