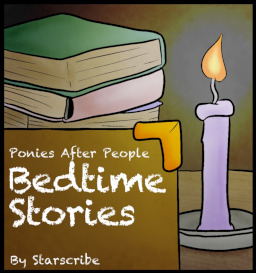 Source
This story is a sequel to Earth Without Us
---
On May 23, 2015, the world ended. It wasn't violent, it wasn't bloody, and it wasn't even very dramatic. The entire population of the planet vanished. But they didn't stay gone; almost at once, refugees started trickling back. Unfortunately for them, they didn't come back with their humanity intact.
Demons lurk beneath the sea, while strange spirits whisper promises in dreams. Empires rise, dictators control, and ponies have nowhere to turn for help. Nowhere except themselves, and old-fashioned hard work.
---
This story is an anthology. Each chapter will be independent, though some chapters may reference characters or events from previous sections. This story began as a series of blog entries, so those who read those may have seen some of these before.
In general, each of these chapters was written in an hour and was not edited to my usual standard, so expect a few minor errors (sorry!). Chapters are posted in chronological order, so new chapters may appear in the middle of the story.
One final note: This story has no regular posting schedule. It will update whenever I feel like it.
Chapters (53)