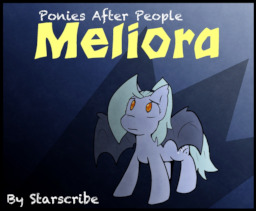 This story is a sequel to PaP: Bedtime Stories
---
Earth has faced terrible things since the Event transformed all living humans into ponies and scattered them across time. Equestria's own demons nearly wiped out civilization more than once, and devastating internal war nearly finished the job.
But now the worst threats are gone, the weapons ponies created to survive them are more dangerous than ever. The superintelligence Athena now rules the world, absolute authority over all civilization. With her power and intellect, she drives the survivors towards greatness, regardless of the body count along the way.
But there are ponies who resist, who yearn for something better. Jackie is not one of those ponies. But maybe they can get her help. It isn't like they have anywhere else to turn.
---
A ponies after people story. Requires knowledge from 'The Last War' to the end of Bedtime Stories to really make sense, but not necessarily full coverage beyond that.
This story is a patreon commission for the wonderful Lightfox Lowell, who provided the general premise. Editing by Two Bit and Sparktail, cover by Zutcha. Thanks to my wonderful support team for making this insanity possible.
Updates every Tuesday.
Chapters (45)