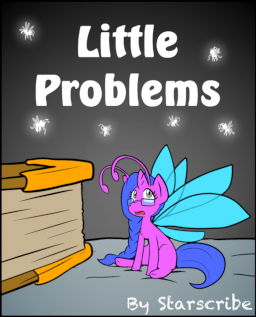 This story is a sequel to Earth Without Us
---
The Event changed all of humanity. Many were lucky, and ended up as creatures more or less the right size to live in their world. Ordinary ponies might be small compared to old human ruins, but they can make due.
It's a lot harder when you're a few inches tall, and the entire world is rotting away around you. Beset by dangers on every side, a few refugees are determined to survive no matter the price. Come god, demon, or locked door, they will triumph no matter what!
Cover by Zutcha. Editing by Two Bit and Sparktail
---
Part of the Ponies After People universe, by me. This story is independent of any of my other fics, but readers should probably familiarize themselves with the basic ideas of Last Pony on Earth. This story takes place around 7000AE.
A few of these chapters (2,3,4) began their life as part of Bedtime Stories. I decided I loved the characters far too much, and so I've removed those chapters and greatly expanded the story around these characters. Breezies have only been done once in this universe to my knowledge, and that story died very quickly. It was time for someone else to write about them.
Chapters (10)