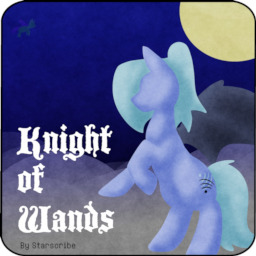 This story is a sequel to Meliora
---
Jacqueline Kessler was the Dreamknife, a being that crossed between worlds to dispense her own particular interpretation of justice. She served for thousands of years, living in the nightmares of dictators and murderers and all of the worst ponies that had ever lived.
But in the end, she cared enough about her world to be willing to let it go. She sold herself for a powerful spell in order to save a post-event earth from Athena's digital tyranny. Now she's dead, almost. There's just one piece of unfinished business. One last changeling to find...
If she can stop her mind from decomposing long enough to reach her.
---
A PaP story, also meant to be my farewell to a character I've loved since the early days of the universe. This story is also a commission for the wonderful Bitera. If you'd like a story like this, feel free to drop me a PM.
Cover is by Zutcha, in case you couldn't tell. The crew did the editing like bros.
Updates daily until complete.
Chapters (8)