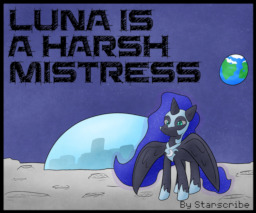 When Nightmare Moon's rebellion tore across Equestria, leaving a trail of blood and horror in its wake, Princess Celestia knew that merely banishing her sister wouldn't be enough. Her army was too powerful, and too bloodthirsty, to be left behind without a leader. When she finally turned the Elements of Harmony against her, she didn't just banish Nightmare Moon. She banished thousands.
Now they're in a race against time, to find a way to survive in an environment so alien that every aspect of it is trying to kill them. They face suffocation, freezing, boiling, starvation, radiation, meteorite impacts, low gravity… the list goes on.
Nightmare Moon thought she should be the ruler of all Equestria. Now, in a world nopony was ever meant to survive, her abilities will be put to the ultimate test.
This story now has a hardcover! If you'd like one of your own, you can grab it here: https://starscribe.net/
---
Editing by the indulgent and patient Two Bit and Sparktail. Coverart by Zutcha.
Note: I intend this story to be as faithful to our current scientific understanding of the moon, and I've consulted for help with the aspects outside my technical purview. That said, I fully expect to make decisions that some may see as mistakes, based on their own independent interpretations.
I am a storyteller first, and I realize it's likely I'll eventually make a mistake, or an arbitrary decision to simplify the storytelling over accuracy. I'm doing my best here, but this isn't a NASA white paper. Set your expectations accordingly.
This story was commissioned by Canary in the Coal Mine on my Patreon, feel free to contact me if you'd like one of your own!
Chapters (66)