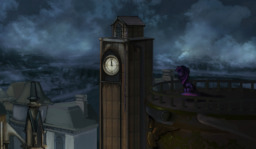 For as long as anypony can remember, an area of land has been cut off from the rest of the world due to an eternal storm that has never shown any mercy. But now the storm has weakened and an envoy from that land has come to Equestria seeking a Queen for their land. A Queen for their kingdom of thestrals.
Join Twilight and Spike as they journey into a new land that no Equestrian has ever laid eyes upon. There Twilight will be tested like never before. Will she succeed and make new friends or will this land be her undoing...
Set just after the end of season 3 and before season 4.
Cover art done by roninfang please check out his profile if you want a commission
Edits done by both sadron and Alchemik
First featured 5/19/18!
Chapters (28)