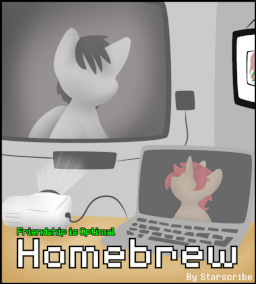 Source
For as long as Equestria Online existed, Ashton has been involved with 'the Scene' tearing it apart. Selling 'spells' for the game to do things that most ponies in Equestria couldn't, using faint exploits in its API to erode the barrier between the game and the rest of the internet. He had no illusions about the superiority of his work--but so long as he respected CelestAI's boundaries, his spells kept working.
But then his best friend's sister got cancer.
Now there's no spell in the world that can keep him from emigrating to be with her, leaving Ashton alone. All around him, civilization's thin veneer crumbles as homes empty into Equestria. But Ashton isn't going to emigrate, not if he has any say about it.
The problem for Ashton is that humans are systems, and aren't immune to exploits either.
Updates daily for a few days (to catch up to my Patreon), then Thursdays thereafter.
---
Part of the Optimalverse universe of stories. If you've never seen a story in this universe before, you might want to try out the original first, or at least my first. None of my previous work is required to understand this one, however.
This story was commissioned by Two Bit, who requested a more serious exploration of identity, transformation, and the fae nature of CelestAI.
As usual, particular thanks go to my editors Two Bit and Sparktail. And gratitude to Zutcha as well for the cover.
Chapters (27)