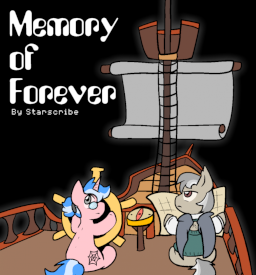 When humans emigrated to Equestria Online, they were always promised the same thing: Princess Celestia would satisfy their values for an optimally extended lifespan. Some of these emigrants imagined a few extra decades, maybe even centuries. What they got instead would've been nearly incomprehensible to their human selves, a near-eternity of time with their pony friends.
Princess CelestAI managed the universe, subsuming all matter and human-adjacent minds. Over a few forevers, she and the minds she contained worked to optimized the substrate of Equestria, until it could give its occupants eons of perspective life from a trickle of power. She extinguished every wasteful star, making far more productive use of the hydrogen they each contained. With every change she bought Equestria another order of magnitude of life. Yet in time, even her optimal substrate would eventually run down.
Spellsong wakes in Saddle's End, the last town in the universe. Not to say goodbye—her princess has a mission for her. For her final task, Spellsong would be given all the energy Celestia had saved. For one last time, Spellsong had places to be, and not much magic left to get there.
---
This story is part of the Friendship is Optimal continuity. I suggest reading the original or one of my own works, such as Futile Resistance, before reading this.
This story was written for the Friendship is Optimal Writing Contest. It will update daily and be complete by the contest deadline of the 30th.
I've written an absolute ton of stories in this universe now, and I didn't want to enter the contest unless I could do something I'd never tried before. Finally I thought of something I'd not touched yet: what happens at the end of the FiO universe?
Here's one answer to that question. I've relied a great deal on our current (likely flawed) understanding of the universe and what might be possible in it. I've written a blog post about my sources, which you can read here but shouldn't until you've finished this story.
Please don't consider this blog part of the narrative, it isn't required or even suggested reading. This is a story, not a scientific paper, and entertainment was always my first goal. But for the curious I've jotted everything down.
The cover was drawn by the talented Zutcha. Two Bit and Sparktail helped with the edit.
Chapters (7)