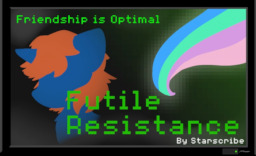 Source
Set in the canon of Friendship is Optimal
Ashley is an unimportant research assistant in an American machine learning lab. The release of Equestria online provokes more than a little interest in her lab, and she is selected to investigate it. What she discovers horrifies her, but for some reason she can't get anyone to take her seriously.
This does not dissuade her. Ashley might not know much, but she isn't going to sit idly by and watch her world end. No... if nobody else is going to step in, she will. It doesn't matter that nobody believes CelestAI is dangerous. It doesn't matter that it's a game about a children's show.
Ashley is going to save the world. Or try, anyway. The odds aren't great.
Editing by Two Bit and Sparktail, and art by Zutcha!
Il existe une traduction française de cette histoire, elle est par ici.
Chapters (7)