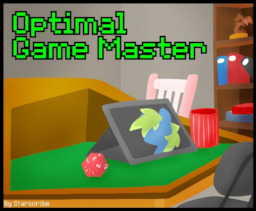 Leaving home meant losing many of Orson's old friends, separated by time and distance. But they weren't willing to give up one thing: their old tabletop game. After trying and rejecting each of the online tools for roleplaying games, they stumbled on a novel solution: Equestria Online.
The game was unlike everything else on the market, an entire procedural generated world ran by a mysterious curator artificial intelligence. But Orson and the others didn't care about any of that--they just needed somewhere with a game table and some dice. The AI happily obliged, and soon they transitioned all their games to E.O. Equestria Online had its own host of benefits, bringing the GM's images to realistic life before their eyes, and even letting them visit and interact with the characters between sessions.
That was only the beginning...
---
A Friendship is Optimal story. I suggest any readers who are unfamiliar with that universe read the Original first, or FiO: Futile Resistance before reading this one. None of my other optimalverse stories are required to understand this one.
Written as a Patreon reward for Sparktail, though we stole the idea from Silver Wing.
Edited by Two Bit and Sparktail, cover by Zutcha.
Updates weekly on Wednesdays.
Chapters (14)