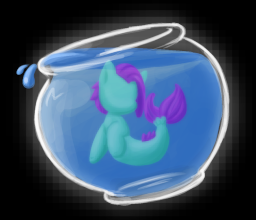 Vera was a teenager when human civilization collapsed. There was no global war, no brave final stand against the artificial intelligence consuming all she touched. It ended with a whimper, when the critical mass of skill and competence emigrated to Equestria, and global nation-states became unsustainable.
Many did not survive the chaos that followed, and even more were pressured into joining their loved ones at last within Equestria's digital embrace. But some, like Vera, resisted. They formed into little communities in the ruins of towns and cities across the old countries.
Years have passed, and those who remain have learned to fend for themselves in ways they never would have before. For Vera, that means work as a mechanic fixing tractors in St. Agnes, mending the dwindling machines that keep the community going for another year.
But when there aren't any machines to fix, she spends her time taking people out into the ocean, diving at many of the reefs and bays that once drew tourists from all over the world. Once she's beneath the waves, the frailty of her body and the sorry state of her species fade, and she can pretend the world is normal.
Soon even this final joy is taken from her, forcing Vera to consider help from a terrible source.
CelestAI has not forgotten her, or any of the residents of St. Agnes. It was only a matter of time.
---
Updates daily until complete.
Edited by Bitera, cover is Zutcha's.
This story was written for the Birthday Contest. It takes place in the universe of Friendship is Optimal. If you're unfamiliar, this story is a poor introduction. Check out the original first, or one of my other stories.
Chapters (9)