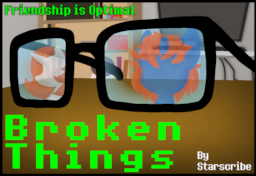 Source
This story is a sequel to Friendship is Optimal: Futile Resistance
---
Three years ago, Abby's older sister Ashley tried to warn her that a video game for children was going to take over the world. A few months later, her sister was dead, "uploaded" to Celestia's virtual world of Equestria Online. When that happened, Abby was forced to cut ties with Ashley, and she never expected to see her again.
She didn't, until one day she bought an augmented reality headset for its advertised ability to bring a free tutor to her whenever she needed one. Needless to say, Abby couldn't have guessed who would be helping her with her math homework.
Of course, Celestia wasn't going to stop there. Spending eternity without your family is hardly an optimal configuration.
---
Set in the canon of Friendship is Optimal
Editing by Two Bit and Sparktail, and art by Zutcha!
Updates daily.
Chapters (9)