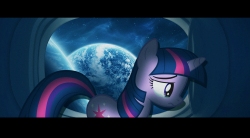 Twilight Sparkle has been through quite a lot during the course of her young life. With her friends she has re-discovered an ancient magic, saved the world from Nightmare Moon, and imprisoned the embodiment of Chaos in stone.
However, she cannot help but feel in over her head when she wakes up aboard an alien space station, where strange creatures are running dangerous experiments on her and others in an effort to make living weapons.
That's just the beginning however. She soon finds herself and her people caught up in the middle of an interstellar war over one of the most basic principals of sapient life.
The right to think for yourself.
Just an idea I had, and I'm not even really sure where it's going to go. But I liked it and I thought that it would make a great story. comments would be appreciated, especially those geared towards making me a better writer.
Cover Art by Mario94 on deviantART URL: http://mario94.deviantart.com/
Preread by Doomotter
Also, mad props to my new editor Eddiehowell! He's great!
Additional characters and tags will be added as the story dictates.
MLP is owned by Hasbro and Faust.
All other characters and worlds in this story are made by me.
This story is 100% approved by Twilights Library!
Also, if you don't like my story, that's fine. Just tell me what I'm doing wrong before you click that downvote button. How can I improve unless I know what I'm doing wrong?
WOOT! FEATURED 11/24/14!! I NEVER THOUGHT IT WOULD HAPPEN!
Chapters (22)