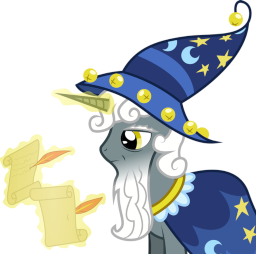 This story is a sequel to What I Am
---
With the invasion repelled, and both planets in the process of rebuilding, there has come a moment for our heroes to stop and take a breather, and reflect upon the events that have led them to this point, and to investigate the nearly forgotten fragments of the past. One such fragment holds secrets that are easily revealed, however, mysteries that have been hidden for centuries behind an ancient tongue, and are finally within the grasp of the Royal Sisters to uncover.
At the special request of the sisters, as well as the curiosity of their new human allies, the last record of the old pony that the sisters had once called teacher are finally translated, and his last words have finally been revealed for all to see.
Yet, their shared history is not a happy one, and even though his story ended on a fair note, a dark shadow loomed over his last remaining years. Starswirl saw many things that others could not, and though he did not live long enough to prevent the tragedies of the future, his warnings still echo from the dust.
These are his writings. The last testament of his life.
Exactly what it says on the tin, this is the account in the book that Celestia showed Alex in What I Am, and ties directly into that story. It is a bit of a spinoff, yes, but it will have importance to the story as a whole, and will be very short (only around 6-7 chapters at most), so it will not be that big of a detour.
Chapters (6)