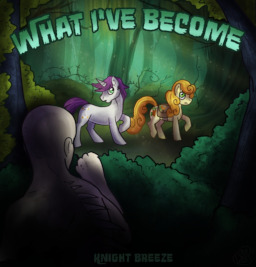 This is the first book of The Humanity Within Trilogy. Its sequel is What I've Done.
I wasn't always like this, a monster, running through the woods on an alien planet. I was once a man. I had dreams, a girlfriend, and a great job.
Then They came. In the middle of the night, They scooped me from my home, and... changed me.
Now I'm a beast, a demon the like of which the world I've become stranded on has never seen before, scraping by on the fringes of society, hiding from the natives, and doing my best to avoid notice.
After all, who could ever be friends with a monster?
Cover Image done by the very talented PaintSplotch! You can find his FimFic account here.
And here is his DeviantArt Account!
Now 100% approved by Twilight's Library!
Mad props to my prereaders:
ThatPonyWithASword.
Admiral Applejack.
JXWheeler
Chapters (15)