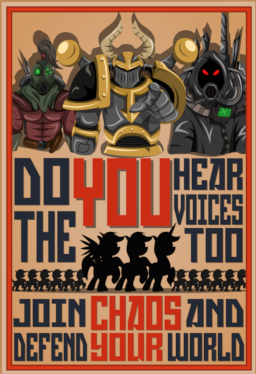 Source
This story is a sequel to Iron Hearts: Book 4 - Emerald Dawn
---
An MLP/Warhammer 40K crossover, part 5.
With their plan established and put into motion, the 38th Company begins the long and unwieldy task of planetary defense, fueling the arcane energies that may yet unsteady the Empyrean and spare their fleet from an enemy without number or mercy. The inhabitants of Centaur III and even the abandoned aggressors help where they are able, but as their foes grow in number and destruction spreads across the planet, the war for the Centaur system has become a bloody race against time.
All the while, the grim culture of the Chaos marauders continues to mingle with the enlightened benevolence of their equine allies. Tempers fray and allegiances blur. But the die has been cast: Equestria and the Company will survive together, or be snuffed out together.
And even should they succeed, what future awaits these unlikeliest of friends?
For there is no peace among the stars. Only an eternity of carnage and slaughter, and the laughter of thirsting gods.
ALL THE EXPLOSIONS. JUST, ALL OF THEM.
(Cover art by Ahrimatt)
(This series now has its own TVtropes page!)
(This series is a contestant in the Tournament of Canterlot, a charity event to raise money for Syrian refugees! Go here for details and donations!)
Chapters (15)