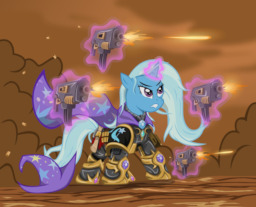 Source
This story is a sequel to Iron Hearts: Book 3 - The Sept Lamman
---
An MLP/Warhammer 40K crossover, part 4.
The Tau threat has passed. The fleet that once thought to sweep aside the tainted pirates of the 38th Company has fled the system. The Lamman Sept is broken, demoralized, leaderless...
... And victorious.
With Lamman's plan put into motion, an alien horde hurtles through the Warp toward the Centaur system, its soldiers without number and thirsting for violence. Equestria's heroes must find a way to stop them, or the entire planet will be overrun with ease and its inhabitants butchered. While they could afford some pretense of neutrality and disinterest in the fight between the Iron Warriors and the Tau, now it is their world that lay in the crosshairs of the foe. Ponykind will need help to survive, and they look to the forces of Chaos for aid. But is there any hope to be found in the darkness?
EXPLOSIONS ARE IMMINENT.
(Dark humor warning; mild grimdark)
(Cover Art by Ahrimatt)
(This series now has its own TVtropes page!)
(This series is a contestant in the Tournament of Canterlot, a charity event to raise money for Syrian refugees! Go here for details and donations!)
Chapters (9)