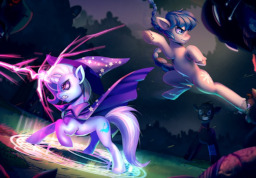 Source
This story is a sequel to Home is Where Your Curse is
---
The sorcerers have been defeated. Their artifact stolen from their grasp, their partnership ruined, their presumptive "rebellion" stamped out, and their base destroyed. Although the revolutionaries were not captured, their every plan fell apart to nothing before the arcane wit of Trixie Lulamoon and the martial prowess of Ranma Saotome. Even the mighty dragon prince Kamikazan, the last gambit of the dastardly unicorns, fled before the conquering heroes.
Yet Ranma and Trixie return to Equestria not as heroes, but as fugitives from Equestrian law. The great Serpent King has been weakened and humbled, but still roams the sky once more, seeking his former glory. Blood Rite hides in the shadows, seething with new hatred, his list of grievances running longer as his patience withers. Ever more enemies join the struggle to bring down the mysterious stallion known as "Havoc," leaving a veritable trail of destruction across the countryside. As the old threats fall silent, new ones emerge at pace, and peace seems more distant than ever.
It's a week just like any other for the Wild Horse.
Chapters (10)