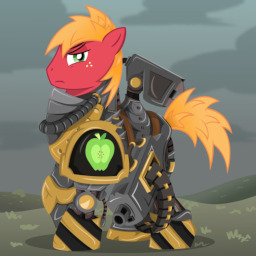 Source
This story is a sequel to Iron Hearts: Book 2 - Ferrous Dominus
---
An MLP/Warhammer 40K crossover, part 3.
The formal negotiations between Equestria and the Iron Warriors have failed. Yet peace and even cooperation between the harmonious ponies and the corrupted militants blooms in the dark corners of Canterlot and the open streets of Ferrous Dominus. The Elements of Harmony are safe, trade flourishes, and cautious meetings grow into lasting friendships as an unsteady calm descends upon both forces.
Even the Tau threat seems to have mysteriously vanished as the Iron Warriors refuse to assault their hideouts and risk springing the traps of the Fire Caste.
But the Tau have not vanished. The Lamman Sept of the Tau Empire, the Fire Caste's hidden dagger, have come to grips with the slumbering giant looming over their doorstep and have moved forward into the final phases of their plan. Fleets ply the void, hunters stalk the orchards, and in the depths of the badlands a strange device is rapidly assembled for purposes unknown.
The Tau alone know that time is running out, and more than just the fate of Centaur III hangs in the balance.
SIGNIFICANT POSSIBILITY OF EXPLOSIONS.
(Dark humor warning; minor grimdark)
(Cover art by Ahrimatt)
(This series now has its own TVtropes page!)
(This series is a contestant in the Tournament of Canterlot, a charity event to raise money for Syrian refugees! Go here for details and donations!)
Chapters (12)