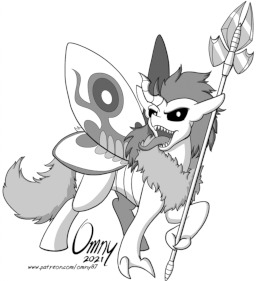 In the far-flung lands around Equestria there are countless bizarre monsters, uncatalogued species, and unknown magics. Across the wastelands, hidden in the uncharted stretches of desert, rumors speak of a tribe of strange creatures, perhaps related to the changelings, but with features derived from an unusually specific insect lineage.
This is the tale of one such creature. Perhaps the only one remaining. His name is Dust, and he stalks the mountains in service to his long quest.
He just wishes he could remember what it was.
Chapters (1)