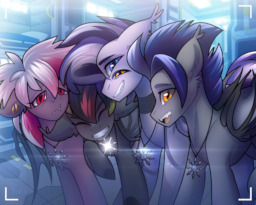 Source
This story is a sequel to Entrenchment
---
The 38th Company brought many strange and novel things to Equestria.
Technology beyond Canterlot's wildest fantasies. Horrors beyond its bloodiest nightmares.
War, strife, blight, and the dominion of monstrous gods long hidden from the eyes of Equestria's innocent populace.
But the planet known as Centaur III knew the touch of dark magics and evil cults long before the Iron Warriors took their first step upon its soil and constructed their blasphemous idols.
The plot to plunge the world into darkness left many wounds and ancient grudges to fester.
The story of the thestrals, the bat-winged soldiers of the Lunar Guard, is one of misery, bitterness, and betrayal. Their history is little more than desperate quests for power and anticlimactic failures, all mere footnotes now as the survivors quietly return to service under their humbled, purified Princess.
Alas, some scars do not heal.
You reap what you sow.
(Dark humor warning; limited grimdark themes)
(Cover art by MagicStarFriends)
Chapters (2)