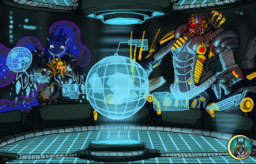 Source
This story is a sequel to Iron Hearts: Book 5 - Suffer Not the Alien to Live
---
An Age of Iron story.
Months have passed since the destruction of the Ork Space Hulk and the end of the war against the Waaagh that threatened to swallow the Centaur system and all its inhabitants.
The Iron Warriors' 38th Company is the absolute military power on the planet, and the survivors of the Lamman Sept and the ponies of Equestria stand with this mighty army of Chaos as they claim Centaur III as their own. Although the other nations of their world may not fully recognize the Company's dominance, it is no matter; the Iron Warriors make plans to return their cargo to the Eye of Terror and return to their eternal trade of piracy. The planet is secure, and can be shrouded by Warp storms at their whim. The natives are divided, weak, and anyway occupied fighting off the scattered Ork warbands. The military supremacy of Chaos is unchallenged, and bolstered by Equestria's reluctant, but hard-earned support.
As Ferrous Dominus expands its operations and the fleet performs its long-suffered duty, it seems nothing can stop the Iron Warriors and their equine allies. The denizens of this conflicted world start to hope that at last peace - if not a distinctly unstable and militaristic peace - has come, and they might start constructing a new, better future from the ruins of war.
But hope... is the first step on the road to disappointment.
(Dark humor warning; limited grimdark themes)
(Cover art by EZTP)
(Featured on 9/19/2015)
Chapters (19)