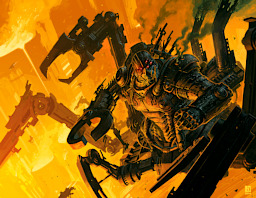 Source
This story is a sequel to Iron Hearts: Book 1 - Planetfall
---
An MLP/Warhammer 40K Crossover, part 2.
Celestia has handed down her order. The Iron Warriors must be defeated and driven from the planet, lest the corrosive grip of Chaos infect their world. With great reluctance, Twilight and Company depart for the Iron Warriors fortress-factory in order to confront the Chaos Warsmith. However, in this mission it is not the might of the enemy that will be their greatest challenge, but their own burgeoning friendships with the admittedly less-than-saintly members of the 38th Company.
At least until the Iron Warriors actually consider them a threat. Then it's totally their military might that will prove to be their greatest challenge.
All the while, the Tau forces lick their wounds and plot their next move. They are far from defeated, and the Iron Warriors have little inkling as to the aliens' true purpose.
MORE EXPLOSIONS!!
(Dark humor warning; minor grimdark)
(Cover art by Nicholas Kay)
(This series now has its own TVtropes page!)
(This series is a contestant in the Tournament of Canterlot, a charity event to raise money for Syrian refugees! Go here for details and donations!)
Chapters (8)