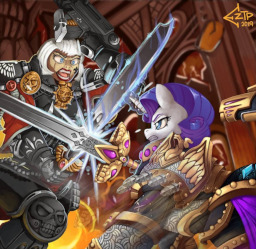 Source
This story is a sequel to Entrenchment
---
An Age of Iron story.
At last, Ferrous Dominus is (mostly) secure.
Centaur III has been (largely) pacified.
The enemies of Chaos and Equestria have finally been crushed (probably).
But victory is merely a prelude to the next war. The Imperium of Man and the pitiful, far-flung holdings of the alien await the Iron Warriors and their new allies, ripe for conquest and plunder. With a new home world and a new ally under their thumb, the 38th Company at last turns its attention on a galaxy ablaze with constant war, seeking new victims to fill the bellies of their ships. The gentle but resourceful equines of Equestria travel with them, taking to the field not out of malice or avarice but gratitude in at last fulfilling their grave debt to the Legion.
But in the depths of the void, far beyond the fleet, beyond the veil of the Materium itself, Chaos is not idle. Plots advance, blood spills, and ancient evils seethe.
The light will be extinguished.
(Dark humor warning; grimdark themes)
(Cover art, and pretty much the rest of the art too, by EZTP)
Chapters (11)