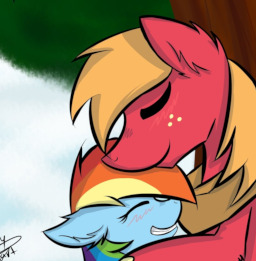 Source
The engagement of Big Mac and Rainbow Dash is the talk of Ponyville! Everypony wants to know how the proposal happened, when the date is, and how Rainbow Dash reacted! There is only one problem, Big Mac never proposed. Now Rainbow Dash has to try to get through a normal day with everypony trying to find out how the proposal happened and how she is planning her wedding.
This is a very late Valentines Day story dedicated to the one and only Jake the Army Guy. I wanted to have this story done before he came back, but that didn't go as planned. So here you go brother, a large MacDash story just for you!
Big shout outs goes out to Arbarano and The Masked Ferret for all the edits and idea bouncing. I am sure both of them have gone a bit insane because of it.
Art is done by KeyLimePie, go check them out on Facebook!
New cover image belongs to honeyheart23
Chapters (7)