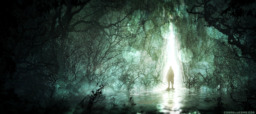 Source
For many years there has been a mysterious creature living in the woods. Many rumors have spread about this creature. Some say its capable of killing anything it puts its mind on, even predators many times its size. A very strange creature that nopony had ever encountered face to face. That was, until now.
The story will tagged complete, since I don't have anything more to write. If I do get an idea for another chapter it will be published here.
Image not mine but from Aeflus, check him out he has really impresive art! No really, go check him out.
Brought to you with the help of these fine persons: Mountain Bell, FreedomFiend, Glocky and Scrambled Crackers who have helped me out with this story. Really, these guy's are awesome!
Chapters (2)