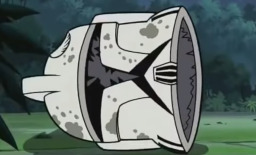 A lone clone trooper finds himself waking up within the dark confined transportation bay of an L.A.A.T. he'd been riding on. He learns quickly that he's apparently the only surviver of a harsh crash landing, leaving the ship in heavy disrepair.
With nothing to gain by simply sitting there, the clone ventures out in an attempt to find civilization and hopefully make his way back to the Grand Republic, and the galaxy-wide war. However, he soon realizes that this task isn't gonna be an easy one, and this planet seems to host quite a few oddities and mysteries. From its population of colorful ponies, griffins, dragons, and tons more creatures, to its primitive technology and mystical ways of life.
But another factor is quick to present itself, for this entire planet and its inhabitants are blissfully unaware of the blazing war that's raging just beyond their skies. A war that could come raining down on them and destroy their peace in seconds...
Featured: 6/29/19, 7/5/19, and 7/19/19! Thank you all so much!
Chapters (47)