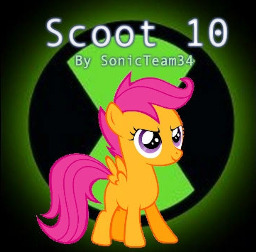 Scootaloo has a lifelong goal, a goal to be a hero just like her idol Rainbow Dash. But being a young filly who is rather known to be the cause of accidents and destructive ideas really puts a dent in that. If only she could just get a chance to prove herself. It turns out that the chance does arrive, in the form of a strange watch from outer space which is able to turn Scootaloo into different aliens, each with their own powers and abilities.
Maybe she could be the hero of Equestria after all...
Aliens, Omnitrix and CMC are not mine and belong to there rightful owners.
Hope you all enjoy!
Chapters (8)