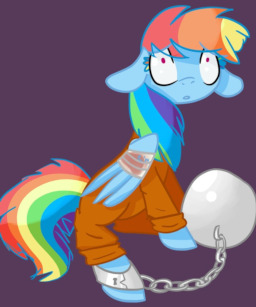 When Chrysalis reappears with an army of unturned changelings to challenge Thorax for the throne, the Changeling Civil War begins. Of course, being close allies with Thorax's Kingdom, Equestria enters the war on his side, and the Wonderbolts are called into military service. On a routine scouting mission, Rainbow Dash goes down behind enemy lines and the changelings bring her to a prisoner-of-war camp, already full of captured ponies and turned changelings. Naturally, being a hero of Equestria, a veritable symbol of the nation, leads to her captors taking out a lot of aggression on her. Nonetheless, Rainbow Dash's will to return home to her friends and loyalty to her nation keeps her strong, and, with the help of a sympathetic changeling guard, she plots a daring escape to freedom. All the while, Spitfire is determined to track down and rescue her best flier--and her close friend.
---
Since this is November, and Veterans/Armistice/Remembrance Day is around the corner, I'd like to give a big thank-you to all those who've served/are serving, especially our dear military bronies. You folks aren't only brave enough to serve your country and put your lives at risk, but also to openly enjoy a show about small, rainbow-colored horses? That takes guts.
In addition, I'd like to warn everypony that while this story doesn't stray too far from the MLP world we all know, it does take place during a war, and in an internment camp. And some of the things that go on inside POW camps are not very pretty. The things that staying in one can do to your mind are even less pretty. Rainbow's gonna see some sh

t; readers, you've been warned.

A lot of the information I got about prison camps, how they operate, and how to survive and escape one came from the book SAS and Elite Forces Guide: Prisoner of War Escape & Evasion by Chris McNab. It's a very interesting book if you'd like to learn more, and I thank him for writing it.
Just a quick note about tags: "Teen," in addition to the following, encompasses some occasional sex jokes and innuendoes. Will add the appropriate tag if the audience finds it necessary. "Violence" and "death" because it's set during a war and there are depictions or references, though "gore" will only be occasional (because I don't particularly enjoy viscera), and "profanity", well, I don't plan on having too much thrown in, because the characters, to me, don't seem like ones who would curse too much, but certain words (namely "damn") will get used in-text or in-speech as intensifiers.
Chapters (6)