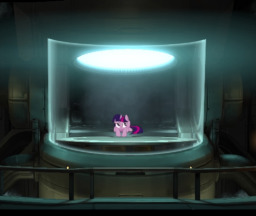 XCOM Record: Operation: Rising Star
11:52 am, 18th Febuary, 2016
Northwestern Territories, Canada.
Summary: Witness reports contact with extra-terrestrial creature. X-ray is unconcious and unresponsive. X-ray does not match description of previously observed species.
Response: Strike-One dispatched on high alert, orders are to recover X-ray alive. Alien Containment prepared for the new arrival.
***
The war ended. They were beaten back, their mothership destroyed, their command structure in ruins. Lost ships and soldiers continued in vain, but thanks to XCOM, humanity won, and the world was saved. The Volunteer saw to that - everything changed because of one man.
And then suddenly, everything changed again. Only this time, it's not a man's doing - it's a mare's.
Proofreading by the aweome Setokaiva, entirely without me asking!
Tagged Dark and rated Teen: Gore, because there is going to be some blood shed by the end of this.
Chapters (20)