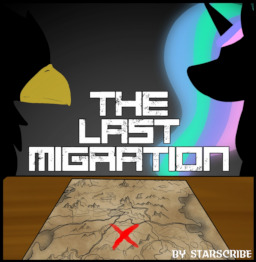 Source
The ancient and powerful Accipion Empire has conquered every nation on Equus... except one. Despite their apparent weakness, the magic of friendship has protected ponies for many years. Emperor Gaius Renault thought his kind would rule forever, that they would have ample opportunity to conquer their ancient foe.
Nature had other ideas. Beneath their claws was a force of unimaginable power, a volcano whose eruption will devastate the empire and smother their crops for years afterward. Even his most optimistic advisors agree that there is only one choice: evacuation.
Equestria might be friendly, but they are no fools. They send a pony, Starlight Glimmer, to see that the terms of the evacuation are followed, and to help the griffins integrate during their time as refugees in Equestria. But blood runs thick, and old rivalries can't just be forgotten.
The longer Starlight Glimmer watches, the more she is convinced she is witnessing the end of both nations.
Updates Mondays
---
This story was commissioned on my Patreon by Vilken666. Thank you so much for making this story possible!
Coverart by Zutcha, who maintains his perfect record. Prereading by Two Bit and Sparktail (sometimes).
Chapters (45)