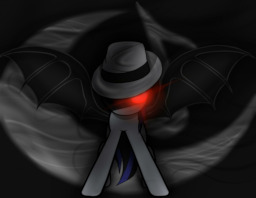 Some say he is just an urban legend. Others call him a ghost. Others still call him a heartless monster, living on nothing but rage, fear, and isolation.
But what is the real story behind "the Phantom Pony of Everfree"?
Fluttershy accidentally wanders into the territory of the pony everyone fears, and she is a witness to his cold, frightening fury. Scared to tears, Fluttershy is determined never to cross him again. But later, she witnesses something thought to be impossible, and deduces for herself that this "Phantom" is really a gentle, kind pony who merely suffers from the pain of loneliness. She then strives to learn the secrets behind this menace of a pony: who he is, why he lives in the woods, and why he is so angry.
The Phantom Pony, Nocturne, wants nothing to do with Fluttershy, and wants to avoid her at all costs. But his feelings toward her, and her friends, fluctuate over time, and he finds his mind and heart slowly changing. Whether for better or for worse, he is unsure, and he finds himself helpless against the kind light of a mare who may just know him better than he knows himself.
---
A rewrite of "Kind Light - A Gentle Dark Supplemental", combined with the rewrite of Chapter 1 of "The Gentle Dark".
Special thanks to the amazing Spirit Shift, a man far more talented than I, for the incredible artwork of the title character.
Featured on 3/17/2016!
Chapters (27)