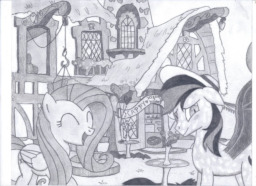 Nocturne has always frowned upon Heart-and-Hooves Day, and for good reason—his looks and awkwardness discourage him from getting a date. But after some tips from the Princess of Love, Nocturne gathers his courage and asks to spend this day with a special pony—his first real friend, Fluttershy.
Well, not really a "date"-date. Just spending time together. As friends. Because that's all they are. Friends. And nothing else.
Right?
Nocturne's feelings for Fluttershy have been jumbled since day one. But trying to remind himself that Fluttershy is nothing more than a friend has become more difficult today than ever. Throw in some unfortunate mishaps, other stallions jostling for Fluttershy's heart, and Pinkie Pie having discovered Nocturne's hidden feelings, and Nocturne's heart—and his patience—will be tested at every turn.
But Fluttershy is a patient mare, and she hopes to bring her elusive friend out of his shell, and give him a Hearts-and-Hooves Day he'll always remember.
Special thanks for the amazing hand-drawn cover art to DandereShy!
Happy Valentine's Day!
Chapters (3)