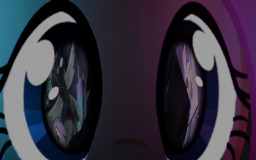 "Hello, hello, hello, this is Thorny Bends coming at you live on Radio Free Canterlot, and from where I'm sitting, folks, the Land of the Eternal Moon is looking lovely. Well, except for that nasty smog cloud rolling toward us from the coast, but hey, that's the price of progress. Still, if you're heading outside you might want to think about an Easy Breezy-brand respirator, guaranteed to make the air taste like new. Buy yours from all major retailers today!
"As I'm sure you all know, it's been almost a thousand years since the founding of our great civilization. And as the big day approaches, I sure hope the High Castle set their clocks right. I'd hate to find out it was really last Thursday. Ha! But seriously, folks. I've been doing a fair bit of thinking about our fair Canterlot, and I've realized it isn't just somewhere we all live. It's what we build together into something greater as we all reach for the moon. A symbol for a way of life and a state of mind. So, in honor of the thousand years, I'm taking an eye in the sky peek into the lives of the ponies on the streets, and a few in the penthouses too. I don't often do real news on this show, but these are some genuine equine interest stories, folks. In their own small, unique way, these ponies are as vital to the city as the princess of the night herself. So settle down, get comfortable, and don't touch that dial.
"You won't want to miss this, I guarantee."
Chapters (19)