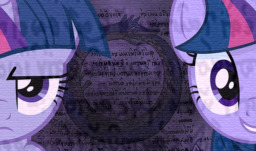 To alleviate her boredom, Twilight Sparkle decides to write a book.
But when she finds her wellspring of creativity has dried up, she casts an ancient magic spell to make her creativity manifest itself, and interrogates the foallike fragment of her soul for ideas. However, the tricky and restless sprite proves harder to handle than she anticipated....
Written for the Equestria Daily "Made In Manehattan" training grounds. Twilight vectors by RichHap and CaliAzian (with minor alterations).
Chapters (1)